Minifig Cookies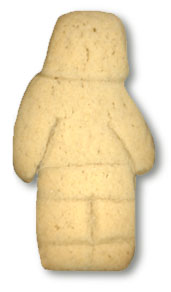 Here's a fun party idea. Bake and decorate your own minifig cookies! Like actual minifigs, these cookies are made up of three simple shapes: head, torso, and legs. These were cut from strips of rolled-out cookie dough and assembled on a baking sheet.

Then a knife was used to score the dough, distinguishing legs and arms. In the oven, the cookies became puffed up as they cooked. Once done and allowed to cool, they were ready for decoration. I used colored cake decorating gel for my cookies,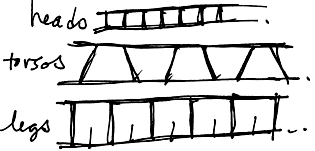 the kind sold in little tubes at the supermarket. That is when you really get to have some fun! Here are some miscelaneous minifig parts to get you thinking... But you can color your cookies to create whatever characters you like -- even yourself!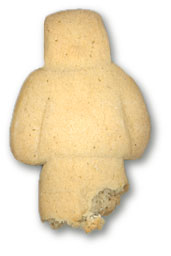 © 1998 Suzanne D. Rich. LEGO® is a trademark of the LEGO Group of companies which does not sponsor, authorize or endorse this site.