back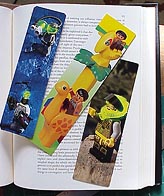 Before throwing away any extra LEGO® boxes, why not cut out a marker for your book?

They make great gifts for young readers. Take some time with a child to find just the right image. The long box sides are a good place to look. They often depict exciting, well photographed scenes and are bordered in a bright color. These pictures sometimes tell whole stories of their own.

I now have more of these markers than I could ever use, so I'm considering leaving some at my local library.


© 1999 Suzanne D. Rich. LEGO® is a trademark of the LEGO Company which does not sponsor, authorize or endorse this site.